Top-Rated Best Selling Products
What our customers are saying...
Jude Bestle

"Great product and outstanding customer service! Would definitely recommend."


Alex Irizarry

"Great Product I love Kevlar jeans best Protection and best fit."


Anthony LoConte

"...This is a stand up company with very nice owners and staff and very nice products which we enjoy. You would be wise to purchase items from this company high quality with great customer service."
Embrace the road, fearlessly. Choose EndoGear® crafted with Kevlar®. Our gear masterfully balances supreme quality with unrivaled protection - making safety stylish, one ride at a time.
Protected Gear

Valued Customers

Seamless Shipping Solutions

Tailored Sizing Options
Collapsible content
Protected Gear

For half a century, DuPont™ Kevlar® has safeguarded those who dare to defy limits in the face of extreme adversity. EndoGear® stands at the frontier of robust motorcycle gear. Infused with DuPont™ Kevlar®, our products showcase the pinnacle of reliability and trust. We take pride in providing unmatched protection for riders, ensuring each adventure is embraced with confidence. Our commitment to quality reflects our dedication to safeguarding your journey.
Valued Customers

At EndoGear®, our customers are our priority. With a relentless focus on satisfaction, we ensure every interaction with us not just meets, but exceeds expectations. We make extraordinary efforts to ensure absolute satisfaction, pushing boundaries to make certain that every transaction surpasses the highest expectations. We set high standards and then strive to exceed them, ensuring a customer experience that's simply unparalleled.
Seamless Shipping Solutions

At EndoGear®, we prioritize efficient, fast, and reliable shipping. Our dedicated logistics team collaborates with trustworthy carriers to ensure that your motorcycle gear is delivered to your doorstep promptly. We aim to streamline the shipping process, maintaining both speed and convenience without compromise. With us, you're not just receiving a product, but also the assurance of excellent service from purchase to delivery.
Tailored Sizing Options

At EndoGear®, we uphold the principle that every rider deserves top-tier protection. This is why we provide an extensive range of sizes for our motorcycle gear - ensuring every rider, regardless of shape or size, can ride with the safety and confidence our products deliver.
Silverstone Motorcycle Jeans
Discover a new standard in riding gear with our Silverstone Class A Certified Motorcycle Jeans. These jeans blend modern functionality with classic design, setting a new benchmark in motorcycle apparel.
Shop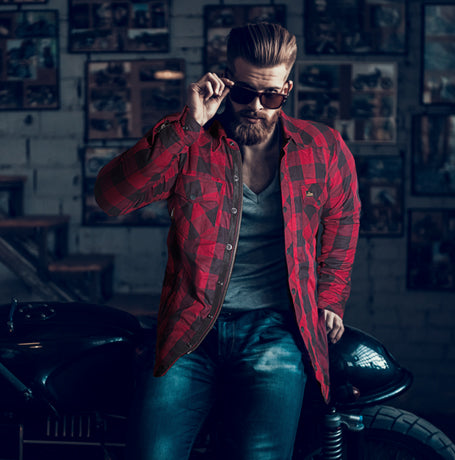 Kevlar Flannel Motorcycle Shirt
Redefine your riding experience with EndoGear's Classic Flannel Motorcycle Shirt, blending heritage aesthetics with modern protection. This iconic shirt merges fashion and function, ensuring you stay stylish without compromising on safety.
Shop